NOTE: THE ORGANIZERS HAVE SAID THIS EVENT IS SOLD OUT.
Have you heard of LA Cookie Con? It's like a dream come true–a day filled with sweets in LA! There will be samples, exhibitors, contests, celebrity chef/author appearances, pastry decorating classes and more. Plus, a portion of proceeds benefit Children's Hospital Los Angeles.
Save the date–January 25, 10 a.m. to 5 p.m., at the Pasadena Convention Center. Use promo code NOSHWITHME to receive $3 off any VIP or general admission ticket. This code is only good for the first 25 users, so don't wait!
See you there!
Last weekend, my sister and I got an early start and headed to the OC Fair. It was a gorgeous day and we were ready to explore! We knew we had a lot of eating ahead of us so we paced ourselves well.
After a leisurely stroll to check out all of the food options, we decided to start with the Krispy Kreme fried chicken sandwich. We were both pleasantly surprised by the savory/sweet combination and found the chicken to be extremely moist.
Krispy Kreme Fried Chicken Sandwich
Next up were the fried artichoke hearts which I had been looking forward to since I heard about them weeks prior from a friend who ate at them at the Del Mar Fair. While they weren't my favorite (a little too much breading for my taste), they were still delicious. If you get them, make sure to get some ranch for dipping.
Fried Artichokes
Not yet totally stuffed, we decided we had to try the fried cookie dough as we were told it was one of the most popular items at the fair. It sure lived up to the hype! Gooey, chocolately, and covered in a fried batter, this was pretty damn amazing and my sister's favorite thing we ate.
Fried Cookie Dough
Knowing there is a fine line between content and stuffed, we called it quits after the cookie dough, which turned out to be the right decision.
And in case you're counting calories (who are we kidding? at the fair?), there are non-edible food related things to check out. There's a Culinary & Crafts exhibit  in the OC Promenade with tons to do, including chocolate demos. We watched a toffee demo in front of the wall of chocolate, and I learned the reason my toffee sometimes separates is because I used unsalted butter; always use salted! Side note: The Silpat used during the demo had a lip on it so it covered the lip of the baking sheet. Brilliant! Has anyone ever seen that? I want one!
Wall of Chocolate
Wall of Bundts
Of course, there are plenty of other things to check out like the livestock, rides, and a ton of exhibits. For more information, visit:
Website: ocfair.com
Facebook: Facebook.com/OCFair
Twitter: twitter.com/ocfair
Phone: 714.708.1500.
Mobile: OC Fair iPhone and Android apps featuring a Food Finder and schedules of events
The Orange County Fair is open Wednesday – Sunday through August 11. Don't miss out!
Disclosure: The kind folks at the OC Fair knew I couldn't wait to taste the deep-fried cookie dough and offered me two tickets for admission and food vouchers as well as two tickets to give away. Obviously I couldn't say no.
Don't be jealous, but on Sunday my sister and I are going to stuff ourselves silly on fair food at the OC Fair. Yes, I realize it's in OC and I live in LA, but it's actually easier for me to get to there than it is to get to the LA Fair. Gotta love LA.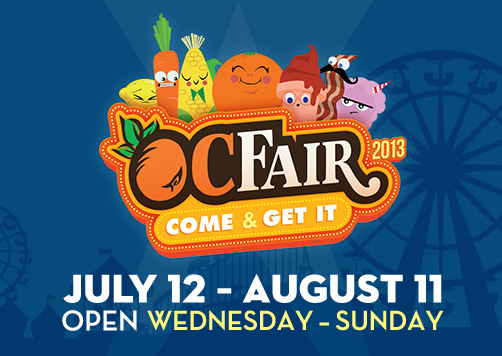 Anyway, this year's theme is "Come & Get It" and that we will! And so will you, because I am excited to be giving away two tickets for admission to the OC Fair! To enter, just fill out the Rafflecopter form below.
Check back next week to see what my sister and I tried (I guarantee there will be a thing or three fried), and in the meantime, here's what the fair is featuring:
Chicken Charlie: Krispy Kreme Sloppy Joes, Deep-Fried Bacon-Wrapped Pickles and Waffle Dogs (a hot dog wrapped inside a waffle and all on a stick). Plus, deep-fried cookie dough!
Bacon A-Fair: Truffle Gouda Bacon Fries, Bacon Beer (root beer) and Cheesy Bacon Bombs. Plus, wild boar bacon on a stick will be served exclusively at the OC Fair.
Biggy's Meat Market: 17-inch The Big Rib plus the new Biggy Sausage, a 2-foot-long smoked sausage on a stick, and the Big Chic, 24 ounces of chicken breast on a stick.
Ten Pound Buns: Ground bacon, whipped butter and Nutella on top of their famous sourdough "pizza" for the Bacon Nutella Bun.
Pink's Hot Dogs: The Ghiradelli hot dog is a beef dog topped with cream cheese, honey mustard, crumbled bacon and dark chocolate.
More New Food: Deep-fried strawberries, a macaroni and cheese hamburger, fried bacon ice cream, deep-fried lobster, cream cheese on a stick, mango & chamoy popsicle (spicy-sweet lemon chile flavoring), heart-shaped funnel cake, Dirty BBQ Tasti Chips and more.
Also, this year the OC Fair is introducing food-themed mascots including Scoop, Carl, Dip and their foodie friends all inspired by iconic Fair and farm foods such as ice cream cones, cotton candy, corn dogs, vegetables, fruit and more. Costumed characters, plushes and signage will be representing the foodie friends throughout the Fair.
$2 Taste of Fair Food
Every Friday from Noon-4 p.m., Fairgoers can sample the best the Fair has to offer for only $2 each sample. Fun-sized samples include funnel cake, BBQ tri-tip, lemonade, cinnamon rolls, corn dogs, tacos, gelato, cotton candy and more.
Celebrity Chefs
The 2013 OC Fair presents two shows in The Hangar featuring charismatic celebrity chefs demonstrating their culinary prowess. Scheduled appearances include the owners and chefs of the award-winning La Casita Mexicana Restaurant Jaime Martin del Campo and Ramiro Arvizu (July 20, 4 p.m.) and award-winning chef and owner of Bottega in Napa Valley and Coqueto in San Francisco Michael Chiarello (August 1, 4 p.m.) Free with Fair admission.
Culinary Presentations
In addition to celebrity chefs, the 2013 OC Fair is also featuring local professional chefs from some of the county's top local restaurants and other culinary artisans in the OC Promenade. Presentation days and times vary.
Food Truck Fare at the OC Fair
On top of traditional and new Fair foods, Fairgoers can purchase gourmet fare from their favorite food trucks from inside the OC Fair gates every Thursday from Noon-10 p.m. Access is free with Fair admission and prices for food and drinks vary per truck.
Kitchen Challenge
Watch local culinary professionals show off their chops and go head-to-head in a series of live cooking challenges set to various themes every Thursday in the OC Promenade: Meatheads (July 18), Time to Make The Donuts (July 25), Firehouse Chefs (August 1) and Vegan (August 8). Winners will receive bragging rights and an award to commemorate their culinary victory. Viewing is free with Fair admission.
Contests and Competitions
Most of the traditional Culinary Arts competitions have closed their registrations but the Culinary Arts department is again hosting live contests that offer late registration with the Special Culinary Contests held the last four Saturdays, including the popular OC Cupcake Classic on August 3. Registration for these contests is the Wednesday before each contest. New this year is the Salad Daze contest, which is judging for the best picnic-ready salads. For a complete list, visit ocfair.com/competitions.
Food As Art
Chef Ray Duey is an acclaimed food sculptor who was a gold medal winner from the Food Network's Challenge Team and will be creating works of art out of fruits and vegetables daily in the OC Promenade. Award-winning Shaile Socher creates masterful floral arrangements out of sugar and will be demonstrating her intricate and dazzling talent in the OC Promenade daily. Demonstrations are free with Fair admission.
Centennial Farm
Experience being home on the range in this year-round, three-acre demonstration farm complete with crops, livestock and the Millennium Barn. Check out educational exhibits, agricultural organizations and the fruit and vegetable competitive entries. Visit ocfair.com/competitions for details on the Garden and Floral competitions offered.
The OC Fair runs July 12 – August 11 . For more information:
Website: ocfair.com
Facebook: Facebook.com/OCFair
Twitter: twitter.com/ocfair
Phone: 714.708.1500.
Mobile: OC Fair iPhone and Android apps featuring a Food Finder and schedules of events
Disclosure: The kind folks at the OC Fair knew I couldn't wait to taste the deep-fried cookie dough and offered me two tickets for admission and food vouchers as well as two tickets to give away. Obviously I couldn't say no. Giveaway ends on Friday, July 19, 2013. One winner will be selected at random shortly thereafter and contacted by email.
Earlier this month, I was invited to King's Hawaiian headquarters for their Project Mahalo Lei Day event. Project Mahalo is King's Hawaiian's way of recognizing and giving back to organizations who do amazing things for the community.
The four finalist agencies were Big Brothers Big Sisters of America, Family Caregiver Alliance, Meals on Wheels, and One Warm Coat. Meals on Wheels was selected as the winner and received $25,000, and the other agencies all received $10,000 each! Thank you King's Hawaiian for being an exemplary example of how brands can give back!
Side note: When I received the invite, I was super excited to attend, because I know first hand how Big Brothers Big Sisters can affect a child. I have been active with Jewish Big Brothers Big Sisters of Los Angeles for many years–I spent nine years as a Big Sister matched with an awesome Little and had the opportunity to watch her grow from a child to an adult, and have since sat on many committees.
After the agencies were honored, we were treated to an enormous lunch. There was food for miles, and every one of the King's Hawaii team was so warm and welcoming!
We stuffed ourselves silly then went on a tour of the bakery. And yes, it smelled as incredible as you would imagine. At the end of the tour, we were treated to bread fresh from the oven. There are no words.
Finally, it was time to head home, and King's Hawaiian gifted us with amazing bags filled with bread, cookies, and candy.
Mahalo King's Hawaiian!
Disclosure: King's Hawaiian provided lunch and gifts to everyone attending the event.