Don't be jealous, but on Sunday my sister and I are going to stuff ourselves silly on fair food at the OC Fair. Yes, I realize it's in OC and I live in LA, but it's actually easier for me to get to there than it is to get to the LA Fair. Gotta love LA.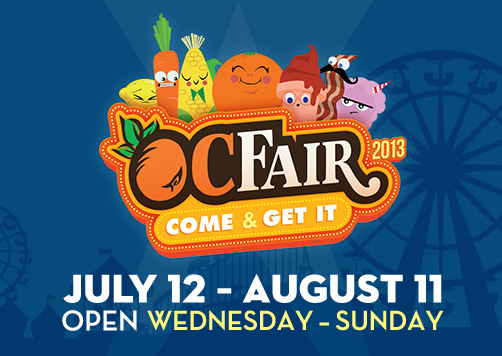 Anyway, this year's theme is "Come & Get It" and that we will! And so will you, because I am excited to be giving away two tickets for admission to the OC Fair! To enter, just fill out the Rafflecopter form below.
Check back next week to see what my sister and I tried (I guarantee there will be a thing or three fried), and in the meantime, here's what the fair is featuring:
Chicken Charlie: Krispy Kreme Sloppy Joes, Deep-Fried Bacon-Wrapped Pickles and Waffle Dogs (a hot dog wrapped inside a waffle and all on a stick). Plus, deep-fried cookie dough!
Bacon A-Fair: Truffle Gouda Bacon Fries, Bacon Beer (root beer) and Cheesy Bacon Bombs. Plus, wild boar bacon on a stick will be served exclusively at the OC Fair.
Biggy's Meat Market: 17-inch The Big Rib plus the new Biggy Sausage, a 2-foot-long smoked sausage on a stick, and the Big Chic, 24 ounces of chicken breast on a stick.
Ten Pound Buns: Ground bacon, whipped butter and Nutella on top of their famous sourdough "pizza" for the Bacon Nutella Bun.
Pink's Hot Dogs: The Ghiradelli hot dog is a beef dog topped with cream cheese, honey mustard, crumbled bacon and dark chocolate.
More New Food: Deep-fried strawberries, a macaroni and cheese hamburger, fried bacon ice cream, deep-fried lobster, cream cheese on a stick, mango & chamoy popsicle (spicy-sweet lemon chile flavoring), heart-shaped funnel cake, Dirty BBQ Tasti Chips and more.
Also, this year the OC Fair is introducing food-themed mascots including Scoop, Carl, Dip and their foodie friends all inspired by iconic Fair and farm foods such as ice cream cones, cotton candy, corn dogs, vegetables, fruit and more. Costumed characters, plushes and signage will be representing the foodie friends throughout the Fair.
$2 Taste of Fair Food
Every Friday from Noon-4 p.m., Fairgoers can sample the best the Fair has to offer for only $2 each sample. Fun-sized samples include funnel cake, BBQ tri-tip, lemonade, cinnamon rolls, corn dogs, tacos, gelato, cotton candy and more.
Celebrity Chefs
The 2013 OC Fair presents two shows in The Hangar featuring charismatic celebrity chefs demonstrating their culinary prowess. Scheduled appearances include the owners and chefs of the award-winning La Casita Mexicana Restaurant Jaime Martin del Campo and Ramiro Arvizu (July 20, 4 p.m.) and award-winning chef and owner of Bottega in Napa Valley and Coqueto in San Francisco Michael Chiarello (August 1, 4 p.m.) Free with Fair admission.
Culinary Presentations
In addition to celebrity chefs, the 2013 OC Fair is also featuring local professional chefs from some of the county's top local restaurants and other culinary artisans in the OC Promenade. Presentation days and times vary.
Food Truck Fare at the OC Fair
On top of traditional and new Fair foods, Fairgoers can purchase gourmet fare from their favorite food trucks from inside the OC Fair gates every Thursday from Noon-10 p.m. Access is free with Fair admission and prices for food and drinks vary per truck.
Kitchen Challenge
Watch local culinary professionals show off their chops and go head-to-head in a series of live cooking challenges set to various themes every Thursday in the OC Promenade: Meatheads (July 18), Time to Make The Donuts (July 25), Firehouse Chefs (August 1) and Vegan (August 8). Winners will receive bragging rights and an award to commemorate their culinary victory. Viewing is free with Fair admission.
Contests and Competitions
Most of the traditional Culinary Arts competitions have closed their registrations but the Culinary Arts department is again hosting live contests that offer late registration with the Special Culinary Contests held the last four Saturdays, including the popular OC Cupcake Classic on August 3. Registration for these contests is the Wednesday before each contest. New this year is the Salad Daze contest, which is judging for the best picnic-ready salads. For a complete list, visit ocfair.com/competitions.
Food As Art
Chef Ray Duey is an acclaimed food sculptor who was a gold medal winner from the Food Network's Challenge Team and will be creating works of art out of fruits and vegetables daily in the OC Promenade. Award-winning Shaile Socher creates masterful floral arrangements out of sugar and will be demonstrating her intricate and dazzling talent in the OC Promenade daily. Demonstrations are free with Fair admission.
Centennial Farm
Experience being home on the range in this year-round, three-acre demonstration farm complete with crops, livestock and the Millennium Barn. Check out educational exhibits, agricultural organizations and the fruit and vegetable competitive entries. Visit ocfair.com/competitions for details on the Garden and Floral competitions offered.
The OC Fair runs July 12 – August 11 . For more information:
Website: ocfair.com
Facebook: Facebook.com/OCFair
Twitter: twitter.com/ocfair
Phone: 714.708.1500.
Mobile: OC Fair iPhone and Android apps featuring a Food Finder and schedules of events
Disclosure: The kind folks at the OC Fair knew I couldn't wait to taste the deep-fried cookie dough and offered me two tickets for admission and food vouchers as well as two tickets to give away. Obviously I couldn't say no. Giveaway ends on Friday, July 19, 2013. One winner will be selected at random shortly thereafter and contacted by email.
Two years ago I lost my friend Patti (my age–only in her 30s) to cancer. Watching her go through treatments, try different medications, and see her in pain was one of the absolute worst things I have ever witnessed and I can't imagine a child going through what Patti went through. So, when I heard that one of my favorite brands, OXO, was donating up to $100,000 to Cookies for Kids' Cancer to support research for new and improved therapies, I knew I had to participate.
Background: Cookies for Kids' Cancer was founded by two OXO employees whose own son was battling pediatric cancer. When the couple learned that the main reason over 25% of kids diagnosed with cancer do not survive was because of a lack of effective therapies, the organization was started. For more information, visit OXO's Cookies for Kids' Cancer.
How you can help bake a difference: Purchase a limited edition cookie spatula! For every spatula sold, OXO will donate 50% of the profits (up to $100,000) to benefit pediatric cancer awareness. These spatulas can be found at Bed Bath & Beyond and Amazon, as well as other retailers.
I know, you're probably wondering what Pop Chips have to do with a baking blog. And well, they don't really. But this is my blog and I can do what I want and I like promoting brands that I buy regularly. (OXO, that means you too. Tweet me. I love you.)

So…when I tweeted to @popchips about not receiving a bag in my swag bag from a conference a few months ago, they sent me a box of all of their flavors (cheddar and sea salt & vinegar are my favorite flavors) and asked if I wanted to share the love with my readers. And share I am! One of you will receive not just one bag of each flavor, but a one month supply of these yummy chips! Seriously, you don't know how lucky you are.
To enter the giveaway, "like" Pop Chips on Facebook and/or follow @popchips on twitter then leave me a comment with your Facebook or Twitter name letting me know you did this.
Giveaway ends at 11:59 p.m. EST on Monday, November 7, 2011. One winner will be selected at random shortly thereafter and contacted by email. Please note this contest is only open to residents of the U.S. and Canada.
***Comments are closed.***
As I mentioned in my last post, the very generous folks at The Harvard Common Press sent me four cookbooks (Chocolate Chip Cookies, Christmas Cookies, Cupcakes, and Holiday Candy & Confections), all part of the Bakers Field Guide series.
All of the recipes are easy to follow, have pictures, and sound delicious! If the Half Chocolate Chip and Half Chocolate with White Chip Cookies are any indication, I'm in for a real treat with the next recipe I try! For your chance to win a set of these fabulous cookies, leave a comment telling me what your favorite holiday (Halloween, Thanksgiving, or winter holiday) treat is. Stale Peeps in the shape of ghosts is a perfectly acceptable answer.
Also, to those of you celebrating–Shana Tova! May you have a happy, healthy, and sweet new year!
Giveaway ends at 11:59 p.m. EST on Sunday, October 2, 2011. One winner will be selected at random shortly thereafter and contacted by email. Please note this contest is only open to residents of the U.S. and Canada.
***Giveaway is now closed.***
The folks over at Snubbr, a new website that helps recommend gift ideas to people, is sponsoring a cookbook giveaway for Nosh readers. Entering is really easy–just visit Snubbr's recommended cookbook list, choose your favorite cookbook, then come back here and leave a comment on this post with the title of the cookbook you want and why you want it. Good luck!
Contest ends at 11:59 p.m. EST on Sunday, May 30, 2010. One winner will be selected by Snubbr and contacted by email. Please note this contest is only open to residents of the U.S.
***Contest is now closed.***