A few months ago, I noticed a deal on Amazon Local for a chocolate walking tour of Beverly Hills. As you know by now, I love sweets, especially chocolate, so this was right up my alley! Plus, I hadn't tried half of the shops on the list, so this was the perfect excuse to finally check them out. So, along with my sister Bethany and friend Randi, we set out to taste some of the best chocolate in Beverly Hills, on foot!
The tour was organized by Great Food Tours and led by Jason, who was very knowledgeable about not only each shop we visited, but LA and Beverly Hills as well. He shared interesting facts and details about local landmarks, and even those of us who have lived here for decades still learned something new. If you're looking for something different to do with local friends or out of towners, this is a super fun way to spend two hours walking around Beverly Hills while experiencing great food!
The day of our tour the weather was absolutely perfect–68 degrees and a sunny sky. We started out at Sprinkles Cupcakes where we were treated to a mini Chocolate Marshmallow Cupcake–dark chocolate cake filled with marshmallow cream and bittersweet chocolate ganache. Rich, moist, and delicious!
From there, we walked down Little Santa Monica to Sugarfina, which I had driven past a gazillion times but never been in. The store is gorgeous–clean lines, simple colors, and their displays and packaging are beautiful.
We were given a few candy options to sample–I went with the Champagne Bubbles and the Robin's Egg Caramel. The champagne bubbles have tiny nonpareils on the outside, giving it some crunch, and the champagne flavor came through nicely. The robin's egg was perfect–dark chocolate, amazing caramel, and a candy shell.
We were also treated to a small bag of our choice, and I selected the Champagne Bears because, well, champagne and gummi candy–how awesome is that?
On the way to our next shop, we stopped at the Beverly Hills Visitor Center and I learned they have coupon books with great deals, including two for one Sprinkles cupcakes! So next time you're in the area, swing by and snag one! They're located right across the street from the Paley Center.
Next, we walked down to Beverly Drive to Edelweiss Chocolates. The woman working there was absolutely adorable, and even let us see their factory, which is mainly just supplies and marble slabs because they do everything by hand!
While there, we tasted the dark chocolate covered marshmallow which was incredibly fluffy and fresh, and nothing like a store-bought one.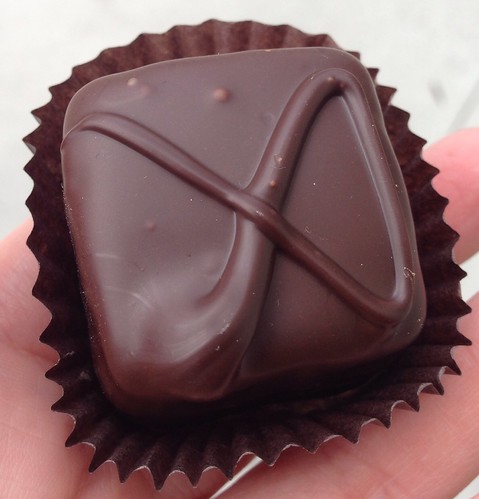 Fun fact: Edelweiss was the inspiration for the I Love Lucy chocolate factory episode.
Stop number four was Lette Macarons, located on Charleville just east of Beverly Drive. It's a place I'm all too familiar with because I used to get my eyebrows done across the street, and would treat myself to a salted caramel macaron each time I had an appointment. It's an expensive but delicious addiction! Anyway, on the tour we sampled their Caribbean Chocolate macaron, which is filled with an incredibly rich and delicious chocolate ganache. Fun fact: Lette's architect won the City of Beverly Hills Design Award for the concept and design.
We then continued down Beverly to Vosges Haut-Chocolate where we tasted a Naga Truffle made from curry powder, coconut, and milk chocolate, a very unique combination! p.s. Ignore my horrible polish job in the following photo.
We also learned the proper way to eat a truffle–rub the flat bottom with your thumb, turn it upside down, take a bite, feel the texture on your tongue, then eat the rest. Not sure I'll always do that, but good to know when it's time to bust out a fun fact at a dinner party.
Taking a break from chocolates, we then visited Beverly Hills Brownie Company. They have every flavor brownie imaginable, but since this was a chocolate tour, we sampled the Simply Classic flavor. Dense and fudgy, this will definitely help with any chocolate craving!
Our last stop on the tour was Teuscher Chocolates of Switzerland, located on Brighton Way. Apparently champagne was the flavor of the day, because we were treated to Champagne Truffles made with Dom Pérignon and covered in dark chocolate.
Not only did I get to try delicious local treats, I got to explore Beverly Hills on foot, something I don't do very often. It was obvious that everyone on the tour really enjoyed the experience, and I would do it again in a heartbeat!

Print This Recipe
I love baking, but doing the dishes is a whole other story. When I find complex recipes that I know I must try, I tend to break up the steps and get as much stuff done in advance so I don't have to wash and rewash dishes all day.
So when I discover recipes like Hershey's amazingly moist one-bowl chocolate cake, I have to share the details with everyone. Not only is it super easy to make, I used one bowl, two measuring cups, two measuring spoons, and a spatula. That's it! The only thing that makes this recipe even better is that you can use it to make layer cakes, a bundt cake, a 9 x 13 cake, or cupcakes! It's the perfect chocolate cake recipe, and each time I make it, I receive tons of compliments.
This time, I made a bundt because I hate frosting cakes and it's amazing what a little dusting of powered sugar can do to elicit ooohs and aaahs. (It's true, I made this for a New Year's Eve party and everyone raved about it.) But I've also made this as cupcakes and layers cakes, I love that it's so veratile.
Disclosure: I received a bundt pan from Baker's Secret.
Ingredients
2 cups sugar
1-3/4 cups all-purpose flour
3/4 cup cocoa
1-1/2 teaspoons baking powder
1-1/2 teaspoons baking soda
1 teaspoon salt
2 eggs
1 cup milk
1/2 cup vegetable oil
2 teaspoons vanilla extract
1 cup boiling water
Preparation
Quick note about temperature: If you're using a dark pan, you should lower the temperature 25°. If you're using glass or a light pan, leave it as the recipe says. Here you can see the two different colored pans–since I used the dark Baker's Secret pan, I lowered the temp. (Side note: The Baker's Secret pan has HANDLES. Do you know how much easier it is to hold and flip a bundt pan with handles? Pure brilliance!)
Heat oven to 350°F. Grease and flour appropriate baking pan(s). (See below for variations.)
Stir together sugar, flour, cocoa, baking powder, baking soda and salt in large bowl. Add eggs, milk, oil and vanilla; beat on medium speed of mixer 2 minutes. Stir in boiling water (batter will be thin). Pour batter into prepared pan(s).
Pan Variations
12 cup Bundt pan: Bake 50 to 55 minutes. Cool 15 minutes; remove from pan to wire rack. Cool completely. Dust with powered sugar.
Two 9″ round cake pans: Bake 30 to 35 minutes or until wooden pick inserted in center comes out clean. Cool 10 minutes; remove from pans to wire racks. Cool completely. Frost.
One 9×13 baking pan: Bake 35 to 40 minutes or until wooden pick inserted in center comes out clean. Cool completely. Frost.
Three 8″ round cake pans: Bake 30 to 35 minutes or until wooden pick inserted in center comes out clean. Cool 10 minutes; remove from pans to wire racks. Cool completely. Frost.
Recipe from Hershey's.

Print This Recipe
And…my obsession with chocolate and salted caramel continues.
When David Lebovitz posted this recipe, my aunt immediately asked me if I had been to the bakery (Little Flower Cafe) he referenced in his post. Sadly, I have not, but it is now on my list of places to try. Since David shared a recipe adapted from one of the Little Flower Cafe recipes, I figured making the recipe could tide me over until I find a friend willing to schlep to Pasadena with me.
While these tartlets are a bit time consuming, they are not only delicious but absolutely gorgeous. My coworkers were oohing and aahing over them at the office, and their small size makes it perfectly acceptable to have one or two. Or three. Or um, maybe four. They're a great party dessert too, because they're easy to hold and won't last for more than a few bites. In fact, I may bring these to my friends' annual New Years Eve party.
Chocolate Dough Ingredients
4 ounces (115g) unsalted butter, at room temperature
1/2 cup (100g) sugar
1 large egg, at room temperature
1/2 teaspoon salt
1/2 teaspoon vanilla extract
3/4 cup (110g) all-purpose flour
1/4 cup (35g) rice flour (or use 1 cup, 140g, all-purpose flour, total)
6 tablespoons (50g) cocoa powder, natural or Dutch-process
Salted Caramel Filling Ingredients
4 ounces (115g) soft, salted butter caramels
3 tablespoons (45ml) heavy cream
Ganache Ingredients
4 1/2 ounces (130g) bittersweet chocolate, chopped
6 tablespoons (90ml) heavy cream
flaky sea salt
Preparation
To make the tartlet dough, beat the butter and the sugar just until smooth in the stand mixer with the paddle attachment, or by hand. Add the egg, salt, and vanilla, and beat until smooth. In a separate bowl, whisk together the all-purpose flour, rice flour, and cocoa powder, then mix it into the creamed butter.
Butter the indentations of two mini-muffin tins with 12 places in each, or one mini-muffin tin with 24 places. Pinch off pieces of dough and roll each into a 3/4-inch (2cm) ball. As you work, put the dough balls in the indentations of the muffin tins. Take your thumb and press the dough down in the center of each indentation, then use your thumb to press the dough up the sides. (If the dough is sticky, dampen your thumb very lightly with water or oil.) Freeze the pans of dough for 20 minutes.
Preheat the oven to 350ºF (180ºC).
Bake the tartlet shells for 8 to 10 minutes, until the dough appear dry and cooked. Remove from oven and use the handle of a wooden spoon to widen and smooth the inside of the little tartlet shells, pressing the dough that's puffed up somewhat firmly against the sides. Let cool completely, then remove the tartlet shells from the muffin tins – the tip of a paring knife might be needed to help aid them out – and set them on a wire cooling rack.
Make the caramel filling by warming the cream with the caramels in a small saucepan over low heat, stirring, until the caramels are melted and the mixture is smooth. Divide the caramel into each of the tartlet shells.
Make the chocolate ganache by heating the cream in a small saucepan. Remove from heat and add the chopped chocolate. Let it sit for a minute, then whisk the chocolate into the cream until the mixture is smooth.
Top each tartlet with some of the ganache and take a butter knife or small metal spatula and swipe off the excess. Sprinkle each tartlet with a few grains of sea salt.
Recipe by David Lebovitz.

Print This Recipe
On a whim last weekend, I decided it was time to use the peanut butter chips I'd had in my pantry for who knows how long. A quick Google search of peanut butter chip recipes led me to this one, and within an hour I had quite possibly the best chocolate cookies EVER.
I apparently made my cookies a little smaller than the original recipe called for, because I ended up with closer to three dozen than two, but that was a good thing because I brought all three dozen in to the office and they were gone in no time.
The cookies are soft and chewy with a rich chocolate flavor, and the peanut butter chips added just the right amount of salt and creaminess. They may possibly be the perfect combination of chocolate and peanut butter that you would want in a cookie.
Ingredients
1 cup butter
1 1/2 cups white sugar
2 eggs
2 teaspoons vanilla extract
2 cups all-purpose flour
2/3 cup unsweetened cocoa powder
3/4 teaspoon baking soda
1/2 teaspoon salt
2 cups peanut butter chips
Preparation
Preheat oven to 350 degrees F (175 degrees C). Grease cookie sheets.
In a medium bowl, cream together the butter and sugar. Stir in the eggs and vanilla. Combine the flour, cocoa, baking soda and salt, stir into the creamed mixture. Finally, fold in the peanut butter chips. Drop cookies by heaping teaspoonfuls onto the prepared cookie sheets.
Bake for 8 to 10 minutes in the preheated oven, until set. Cool on wire racks.
Yields 2-3 dozen, depending on size.
Recipe from Allrecipes.com.

Print This Recipe
I was going to visit friends with a newborn, and wanted to bring a sweet treat. Since I didn't have a chance to get the grocery store, I had to make do with what was already in my pantry. This recipe called for the basics. And yes, I usually happen to have jars of salted caramel in pantry–you can blame Trader Joe's for that.
The reviews for the recipe were all stellar, so I was expecting something pretty amazing and was slightly disappointed. The bar is chewy, but the chocolate definitely overpowers and the caramel isn't very noticeable. These are OK, but not so incredible that I felt the need to steal half of the pan for myself.
Ingredients
2-1/4 cups all-purpose flour, divided
2 cups quick-cooking oats
1-1/2 cups packed brown sugar
1 teaspoon baking soda
1/2 teaspoon salt
1-1/2 cups cold butter, cubed
2 cups (12 ounces) semisweet chocolate chips
1 jar (12 ounces) salted caramel
Preparation
In a large bowl, combine 2 cups flour, oats, brown sugar, baking soda and salt. Cut in butter until crumbly. Set half aside for topping.
Press the remaining crumb mixture into a greased 13-in. x 9-in. baking pan. Bake at 350° for 15 minutes. Sprinkle with the chocolate chips.
Whisk caramel topping and remaining flour until smooth; drizzle over top. Sprinkle with the reserved crumb mixture. Bake for 18-20 minutes or until golden brown. Cool on a wire rack for 2 hours before cutting. Yield: about 4-1/2 dozen.
Recipe adapted from Taste of Home.